Futourist, the first travel review platform based on Ethereum that rewards users for creating and curating travel reviews with blockchain tokens.
People are creating content for free and businesses generate massive amounts of revenue for displaying this content. Futourist is challenging this unfairness by rewarding all users for their work, from superstar influencers to everyday reviewers.
They will start building on top of an existing and working platform called
OpenHours. It generates more than 1 million monthly users which are perfect for proving the concept.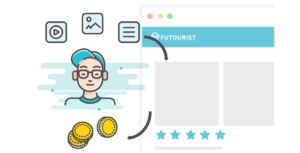 THE FUTURE OF REVIEWS IS VIDEO
In the era of Youtube, Facebook, Instagram, Twitch and Snapchat, the video is the clear winner of all online content types. The Futorist will be focusing on video reviews. A picture says a thousand words and video is composed of thousands of pictures.
The video is the future of information sharing, because of the speed and convenience of how the information is
created and perceived. And as a bonus, video reviews are trustworthy and hard to fake. You know.. "record it or didn't happen".
With Futourist, influencers will have a place to display and directly monetize their content. And through Futourist's
internal social network, they will have the ability to spread awareness about their content and increase their social
reach.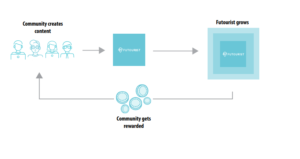 WHY REVIEWS
Reviews are one of the most globally spread and helpful kind of information found online. There is a direct correlation
between review content and revenue of the business behind the reviewed object or service. Despite this fact,
reviewers are rarely rewarded for their contribution in any way.
Reviews have an enormous impact on people's decisions when considering a business to buy services from. People
nowadays tend to trust reviews more than anything else. Research shows that online reviews are as powerful
as any personal recommendation.
BUSINESS BENEFITS OF REVIEWS
Statistics show, that positive feedback from reviewers has an enormous impact on business revenue and can boost
the sales up to 5 times.
• A one-star rating increase on Yelp leads to a 5 – 9% increase in businesses revenue
• Customers are likely to spend up to 31% more on a business with top reviews
• 67% of travelers said they are willing to pay more for a hotel with higher review scores
TOKEN DISTRIBUTION
18% of tokens to cover future team members, advisors, and experts. This will help us build a solid team with years of experience crucial to Futourist growth.
5% of tokens will be reserved for OpenHours platform. Already existing platform that will give them a huge advantage when kickstarting the project was developed by the OpenHours company, but furthermore,
with 1 mio monthly users, our platform will be ready to launch a lot faster.
25% of tokens will be available for the ICO crowdsale.
7% tokens will be available for future partners
45% of tokens for the Community and for future projects.
In the first year of runway, Futourist will reward users with a large percentage of reserved tokens. These tokens will be given back to community in form of contest rewards, each with different token amount, time period and
objective.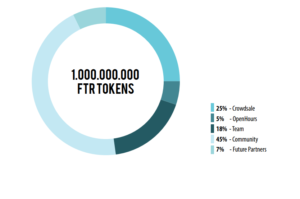 TOKEN CROWDSALE INFORMATION
TOKEN CROWDSALE START DATE
20TH FEBRUARY 2018
Total token supply:

 

1.000.000.000 FTR

Tokens in crowdsale:

 

350.000.000 FTR (35%)

Crowdsale threshold:

 

700,000€

Crowdsale hard cap:

 

5,600,000€

Price per FTR:

 

0.016€

Tokens accepted in ICO

 

Ether (ETH)
Market cap
If there is a hard cap of 5,6 M € for 35% of the tokens that means a total market cap of the project will be worth around 16M in the beginning, this can easily go 10x times the initial token price when the project will be up and running.
Community 
The project isn't hyped but has some recognition it has 7415 telegram members and 3785 twitter followers, it has a lot of local support. There is great involvement of community true rewarding community with FTR tokens for sharing awareness of the project. You can get involved here.
Team
The team is quite young but they managed to establish Sailbrace, an international brand with a 250% year-over-year revenue growth for the last two years. have They have partnered with field specialists as well and have the board of advisors from ICONOMI first Digital Asset Management Platform which are experts in running ICO and cryptocurrencies field.